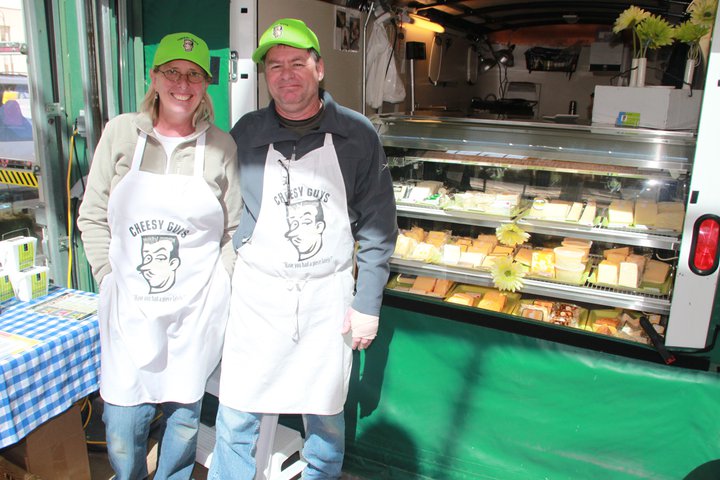 It all began with  cheesecake and a dream…..  Well – kind of.  Rick loves to make cheesecakes.   They're so good that friends and family said he should make them for a living.  Isn't that how a lot of businesses start up anyway?
As a result "Cheesy Guy Cakes" was born around 2003.  A family member even came up with our slogan "Have you had a piece lately?"  We were in business – at least part time.
It was relatively easy to sell to relatives, friends and co-workers.  Not so easy when we attempted our local famer's market – selling out of coolers under a tent.  It was a huge flop – actually.  Eventually we were sure that the right opportunity would come along for us if we were meant to do this.  Maybe it would be a retirement project someday……
And it did.  To make a long story short – in 2009 before Christmas we went to the farmer's market to buy cheese (which we also love) – and found our opportunity.  The Cheese business was for sale.   We bought a lot more than cheese that day!   We ended up buying a trailer with full kitchen  and what we needed the most – a refrigerated display case.

In January 2010 Cheesy Guys started up at the St. Catharines Farmers Market. Cheese and cheesecake  together?  Why not?  Our slogan still worked.  "Have you had a piece lately?' worked well with either product.
It quickly turned from a "retirement project" into a full time passion for us.   Within 3 months Rick left Dofasco (after 37 years)  to be a full time "Cheesy Guy"   Kristine left nearly 20 years of Massage Therapy to join Rick shortly after.
Rick has always been a little Cheesy – he just makes money at it now!